This has to be one of my favorite sites. The San Diego Historical Society has a wealth of information on the Abbot-Downing Concord Coach. Click on for further info. Enjoy this very informative site.
The photo above shows a Stagecoach for Franconia Notch leaving North Woodstock, NH. from the Deer Park Hotel. (1888)
The photo below shows the train station in North Woodstock with the Deer Park Hotel in the distance. Note the stagecoach.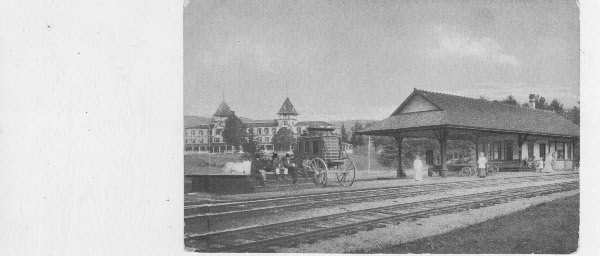 May 22, 2004
Stagecoach at Jaffrey, NH. Unfortunately, this stagecoach was destroyed in a fire in 1906.
May 20, 2004
Photo of the Abbot-Downing Concord Coach shipped to John Wilkinson at the Greenville, CA Hotel. Stagecoach #155.
Abbot-Downing Co. -
circa. 1893
Abbot-Downing Factory - Concord NH
Photo courtesy of the New Hampshire Historical Society

May 1, 2004
Photograph of the Lewis Downing, Jr. home located at 13 Pleasant Street in Concord, NH which is now the Parker Academy. This Italianate house was erected in 1851. Photo ca. 1925.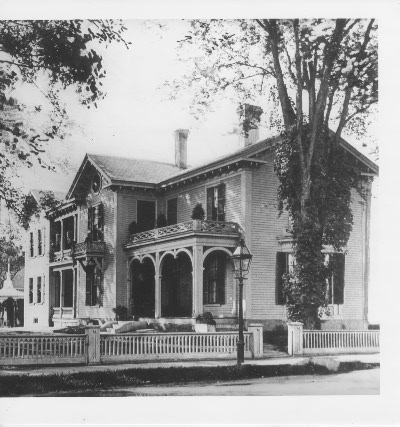 April 18, 2004
Photo courtesy of Janet Ball
The Crawford House Concord Coach is shown at the Cog Railway at the base of Mt. Washington in New Hampshire. This coach is now in the collection of the Museums of Stony Brook.
Special thanks to Janet Ball for providing these superb photos.
I expect this Stagecoach was in operation in Bethlemen, NH. Further information when in becomes available.
Special thanks to Janet Ball for these exceptional pictures.
WOODSTOCK, VERMONT STAGECOACH AWAITING THE TRAIN.
When time permits I wish to share information with you on this East Granby, CT stagecoach and the prison where it is shown.
STAGECOACH LOCATION UNKNOWN
East Swanzey, New Hampshire Stage
MACHIAS, MAINE STAGECOACH
Genesco, New York Stagecoach
December 21, 2003
Be on the lookout for BETHLEHEM, NEW HAMPSHIRE - 1999 Bicentennial Edition. This history of the town of Bethelehm, NH has many photos of stagecoaches. Bethlehem was known for the elaborate Stagecoach Parades during the tourist season. You'll enjoy the photographs in this book.
November 28, 2003
Special thanks to Michael Reed for the photograph of the Massachusetts Stagecoach shown below. This Concord Coach is now in the collection of the East Granby, CT Historical Society.

October 18, 2003
Just in time for the holidays - the New Hampshire Historical Society will be selling two new neckties with an Abbot-Downing Concord Coach theme. I haven't seen them yet - but will keep you posted.
UPDATE: They are now available at the Museum Store.

October 3, 2003
On October 1, 2003 the Wells Fargo Bank opened their new museum in Phoenix, Arizona. The 3700 square-foot museum is located at First Avenue and Adam Street - just north of the bank's Arizona headquarters.
Abbot-Downing Concord Coach #276 is on display.
The museum also houses the largest collection of N. C. Wyeth western art in the nation.
Check out Abbot-Downing Concord Coach #276

September 27, 2003
Courtesy of and copyrighted by Wells Fargo
Wells Fargo Bank has their own hot air balloon division - with six different balloons which they fly internationally.
The Stagecoach balloon is 90 feet tall and 100 feet from the front wheel to the back.
I takes a crew of 25 to get it into the air.

September 21, 2003
It has been brought to my attention that an Abbot-Downing Concord Coach #84, built in 1865, is owned by Jon Oscher and is currently on display at the newly opened Booth Western Art Museum in Catersville, GA.
Unfortunately at this point I have no picture nor additional information. When I do - I'll pass it along.
UPDATE: The Hansen Wheel & Wagon Shop is responsible for the preservation and conservation of this Abbot-Downing Stagecoach. For a photo of this coach click on the link below. It's listed as the Cartersville, GA Concord Coach
Information on the Booth Western Art Museum
The Concord Coach Society barn was open during the 28th Annual New Hampshire Highland Games - the largest Scottish festival in the northeast. Approximately 30,000 individuals attended. Hopefully many visited the Concord Society Barn.

September 9, 2003
I'm excited!!! Check out Abbot-Downing Stagecoach #105 in the Abbot-Downing order books - Vol. 2 - pg. 3.
Abbot-Downing Stagecoach #105 is located at the Pike County Historical Society in Milford, PA.

August 31, 2003
History was recorded on Mt. Washington, NH on July 20,1899, when a team of eight horses pulled the Fabyan House Coach to the summit of the 6,288-foot mountain, only the second Concord Coach ever to make the eight-mile-long trek. The coach is now owned by the Mt. Washington Auto Road and a photo of it can be found on my Concord Coach Photos site.
The first Concord Coach to reach the summit was on opening day of the road on August 8, 1861.
Photo courtesy of Janet Ball.
August 30, 2003
Photographs courtesy of and copyrighted by Chuck Bourbeau
New photographs of the Abbot-Downing Stagecoach owned by the Andover New Hampshire Lions Club. This Concord Coach once ran between West Barnstable and Cotuitport, Massachusetts.

Check out the Serra Museum. I love this website - one of my favorites. Make sure you click on at the top of the page that says "see all images from this Journal issue".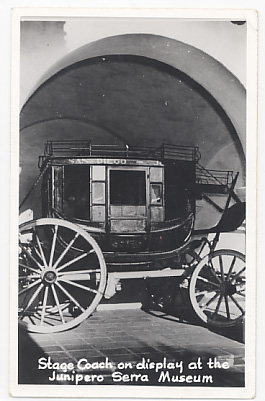 August 18, 2003
The NEW HAMPSHIRE HISTORICAL SOCIETY has recently received a new shipment of their Abbot-Downing Stagecoach t-shirts. These are absolutely great. Go on to their site and check them out.
August 14, 2003
It has come to my attention that the Home & Garden TV show If Walls Could Talk on July 13, 2003 presented a show where homeowners in New Hampshire discover a restored stagecoach in a local museum once owned by an individual who lived in their nineteenth century home. Didn't catch the show - can you provide me with futher information - location - town? Thanks.
Update - 08/31/03
The episode was WCT-702 and aired on July 13, 2003. I'll keep you posted.
August 4, 2003
Wells Fargo currently has a stagecoach cookie jar on their Museum Gift Shop site. This might be a one time opportunity to purchase this item as Wells Fargo does continue to offer other items. Once this item is sold out - it may not be offered again.
Like all Wells Fargo gifts, this is a quality item and you should check out this website periodically for newly introduced items.
July 24, 2003
Special thanks to Janet Ball for this great photo of the Stagecoach that ran between Rutland and Woodstock VT
Janet Ball always shares her photos of Abbot-Downing Stagecoaches with all of us.
Here again - she gives us a gem. The Potter Place Stagecoach is one of my favorites. You'll find more information on my sites.
May 10, 2003
Coming up! Information on the Old Man of the Mountain painting on the side of an Abbot-Downing Stagecoach. - Or was it???
Update - It appears that Edward Burgum designed this door panel and it was never used on the side of an Abbot-Downing Stagecoach. He may have just made it for his own enjoyment and a wall hanging or a design for a future Coach. When I have a chance I will add a photo of this work of art.
Update II - The New Hampshire Historical Society now has on sale a coffee mug with a copy of this door panel.
April 17,2003
I am happy to announce that the Mayor of the City of Concord, New Hampshire recently forwarded a Proclamation to the Village of Clemmons, North Carolina commending them for their recent gift of an historical marker related to their historic "Hattie Butner" Abbot-Downing Stagecoach.
Concord Police Officers in the Rotunda of the former NH Historical Society now known as the Tuck Library.
Bristol,Vermont Stagecoach
Hanover, New Hampshire photo courtesy of Janet Ball
March 23, 2003
WELLS FARGO HAS A NEW MUSEUM OPENING IN THE FALL OF 2003. THE LOCATION IS PHOENIX, ARIZONA.
The 3,700 square foot Phoenix location is scheduled to open in October on the ground level of the Wells Fargo Plaza, 100 W. Washington Street.
An original Abbot-Downing Stagecoach and a large collection of Western Art is scheduled to go on display.
A listing of current Wells Fargo Museums can be found on my page Abbot-Downing Stagecoaches You Can Visit.
For a sneak preview of the Abbot-Downing Stagecoach #276 that will go on view at this new museum.
March 22, 2003
An Abbot-Downing catalog sold on ebay today for the sum of $553.34. The catalog had 12 fold out pages and measures fifty inches long when unfolded. Shows fire wagons, delivery wagons, water wagons, etc. The catalog is circa. 1880.
The New Hampshire Historical Society owns an original of this catalog.
Photo courtesy of Janet Ball
Stoddard, New Hampshire Stagecoach
A Stagecoach decorated for a parade. Location unknown
I have a feeling this Coach was located in one of the Southern States
An Abbot-Downing Stagecoach on Catalina Island which was destroyed in a barn fire set by an employee who had fallen asleep while smoking.
Photo courtesy of Janet Ball
This ticket courtesy of Janet Ball