June 1, 2007
The New Hampshire Historical Society has a newsletter that you should subscribe to. Two of the newsletters had items of interest regarding Abbot-Downing.

THIS ITEM DISCUSSES THE ABBOT-DOWNING ORDER BOOKS. I WISH THEY HAD MENTIONED THAT THE CONCORD COACH SOCIETY PROVIDED THE FUNDS TO PROVIDE THE LEATHER BINDING IN 1985.

THIS ITEM DISCUSSES THE LEWIS DOWNING CANE WHICH IS SHOWN ON ANOTHER PAGE ON THIS SITE WHEN THE ABBOT-DOWNING CONCORD COACH WAS PRESENTED TO THE NH HISTORICAL SOCIETY.
May 23, 2007
Wells Fargo has a great blog and something you should check out. Scroll down this wonderful site and on their posting on May 8, 2007 you will find information on a visit of Queen Elizabeth and her introduction to an Abbot-Downing Concord Coach.
April 21, 2007
GLENN FALLS, NY STAGECOACH
Glenn Falls Stageline coach at the toll house to Lake George
Additional photos of the above Abbot-Downing Concord Coach appear on Updates VIII
April 9, 2007
Two photos of stagecoaches in Indian Lake, NY. One at the Commercial Hotel and another at the Ordway Hotel. Click on twice to enlarge the photos.
April 5, 2007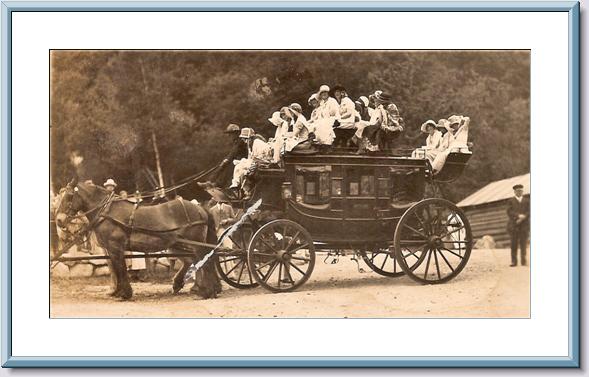 This photo intrigues me. It was taken on the 100th anniversary of the Willey Slide. I have no other information regarding location - I expect it was taken at Harts Location, NH.
Check out a brief description of the Willey slide.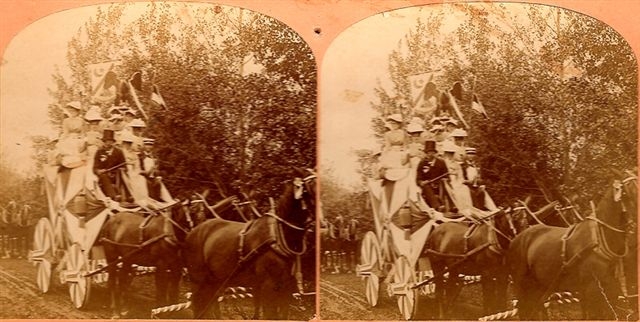 Unfortunately, this stereoview is not as sharp as I would like. It shows a stagecoach decorated for a coaching parade in the White Mountains of New Hampshire.
SPECIAL THANKS TO JANET BALL
Working on where this photo was taken. The photo was taken by a Concord, NH photographer. Looking into the possibility it was at the Parson's Poor Farm outside Exeter, NH. Let you know if that proves positive.
Why does everyone want to add an extra 't' to the name of Abbot? I just came across an article in the New York Times dated February 18, 1900 and it started with "Abbott-Downing." I have come across this spelling numerous times in various books and on the internet.

Seeking information on the Abbot-Downing order books?
Click on and scroll down for information on the order books.

March 19, 2007
Once again, Janet Ball comes through with a wonderful card of the Sandwich, NH Concord Coach.
Special thanks to Janet Ball for her continuing interest in Abbot-Downing
March 11, 2007
Bennington, Vermont Stagecoach
If you missed it on the opening page, the Wells Fargo Bank is updating their History Page. It's under construction, but you can check it out. Add it to your favorites.
March 8, 2007
PHOTO COURTESY OF JANET BALL
SANDWICH, NEW HAMPSHIRE CONCORD COACH
February 8, 2007
STEREOVIEW OF ABBOT-DOWNING FACTORY - Unknown date
January 18, 2007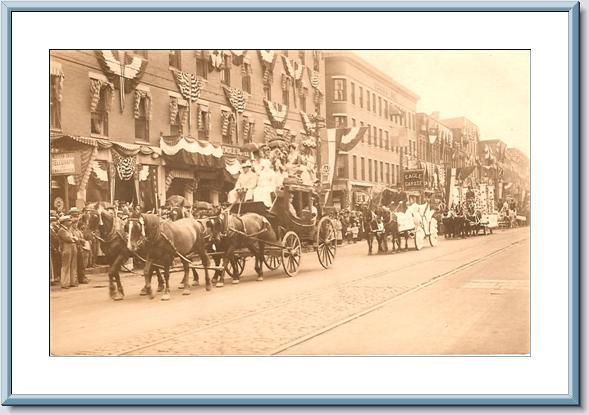 Members of the Friendly Club of Concord, NH ride in the New London Potter Place Abbot-Downing Concord Coach during a parade in Concord, NH. Photographed directly across the street from the NH State House in front of the
Eagle Hotel.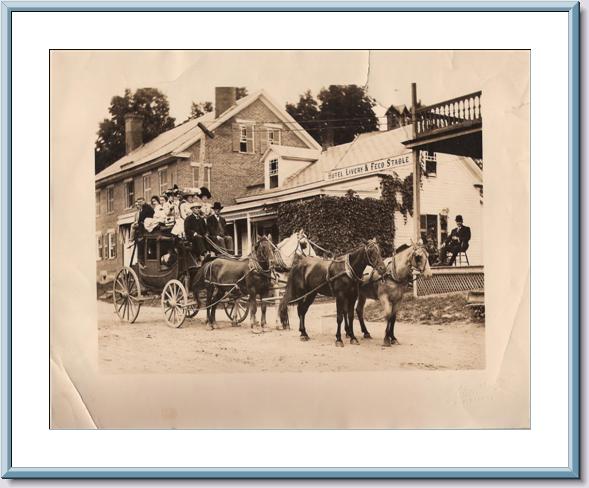 Possibly St. Albans, Vermont
January 13, 2007
The Wisconsin Historical Society has some great photographs of stagecoaches on their site. Use stagecoach as the keyword.
There is an Abbot-Downing Concord Coach (1865) in the collection of the Circus World Museum in Baraboo, Wisconsin. To see a photo - Google Abbot Downing Circus World and you will be directed to a photo of this coach.
November 24, 2006
Click on Stage Coach above to find information on the Otero Museum AD Concord Coach.
November 2, 2006
Saxton's River, VT
November 1, 2006
October 7, 2006
How unusual is this. Check out the site to find out more about this Australian artist and the saint.
Here's a neat little photo of the only Abbot-Downing Concord Coach shipped to Rhodesia. You will find another photo, if you click on the Miss Lucy Downing page at the top of my site. It's two photos down.
September 29, 2006
I read in the Business section of the September 25, 2006 Fort Worth Star Telegraph that Abbot-Downing Concord Coach #670 has been put on display in the upper lobby of the Wells Fargo Tower located at 201 Main Street in Sundance Square. This AD Concord Coach was originally used in Virginia. Sorry! No photo available at this time.
September 27, 2006
A group of school children visiting the Sandwich, NH Concord Coach.
September 24, 2006
Natural History Museum, Los Angeles, CA.
September 23, 2006
Visting New Hampshire for fall foliage? Make sure you stop by the Flume and check out the Abbot-Downing Concord Coach owned by the State of New Hampshire.
September 22, 2006
It's a little late in the season, but next year if you wish to check out the Abbot-Downing Concord Coach that belongs to the Amherst, NH Historical Society that was restored by Ed and Barbara Rowse, click on their site for the times it is open to the public.
Photo courtesy and copyrighted by Chuck Bourbeau
September 17, 2006
Recently, Anheuser-Busch updated their Grant's Farm website and dropped the picture of their Abbot-Downing Concord Coach which had been presented to them in anticipation of it being located at the Anheuser-Busch Brewery in Merrimack, NH. Their photo was taken outside, with a great side view. While this is a great photo,it is a shame that the Concord Coach is stuck in the corner of their carriage collection exhibit and individuals can't walk around this wonderful vehicle.

Check out this photo from the archives of Strawberry Banke Museum in Portsmouth, NH of an Abbot-Downing Concord Coach in Rye, NH.

September 15,2006
This postcard (date unknown) shows the Coach is front of the Country Store prior to its restoration.
In the September 13, 2006 issue of the New Hampshire Union Leader they had an article on the restoration of a Concord Coach that had been displayed in front of the Moultonborough Country Store. It had been on display at the Country Store since 1974. Steve Bergeron states his uncle purchased the coach from the estate of Bergeron Bellows of Walpole. Bergeron stated he purchased the coach from his aunt in 1974. The Moultonborough coach is among the oldest, if not the oldest Concord Coach in the nation. Blackburn Restoration of Middleboro, MA did the restoration.
A perfect spot - the Moultonborough Country Store is among the oldest in the country.
The NH Historical Society has a new tee shirt with Buffalo Bill driving the Abbot-Downing "Old Deadwood Coach," Concord, NH, July 4, 1895. The photo on the back of the shirt is from their photo collection and their logo is on the front.
September 13, 2006
Abbot-Downing Concord Coach #276 is on display at the Wells Fargo History Museum in Phoenix, Arizona. The museum is located at 100 West Washington Street, Phoenix, AZ 85003. Enter on the Adams Street side. Open 9-5 Monday through Friday.
The original order to Abbot-Downing requested that this stagecoach - body and carriage be painted straw.
The lettering was as follows:
Wachusett & Princeton (on footboard)
Forrest Road (on rail)
V&M R.R. (over door)
The lining was to be Claret Leather w/hanging curtains.
The coach was built for J. Adams.
Weight 2,050 lbs.
Here's the official Wells Fargo listing for this Abbot-Downing Concord Coach in Phoenix.
December 12, 2005
Chesterfield, New Hampshire Stagecoach (circa. 1917.) Another photo of this coach out of Keene, NH is shown on this site.
November 6, 2005
Unfortunately, when automobiles came along, a lot of carriages and stagecoaches ended up in a graveyard. Another example is on one of my earlier pages. If they knew then - what we know now!
Monticello, Kentucky Burnside Coach. This Abbot-Downing Concord Coach is now in the collection of Wells Fargo Bank.
Other photos of this coach are on previous pages on this site.
Abbot-Downing shipped two Concord Coaches to Fredericton, New Brunswick, Canada.
This photo shows Lila Bridges (holding the guitar). She was born at Deer Island - very close to Fredericton - in 1866. Note the baby carriage on top of the coach.
PHOTO COURTESEY OF JANET BALL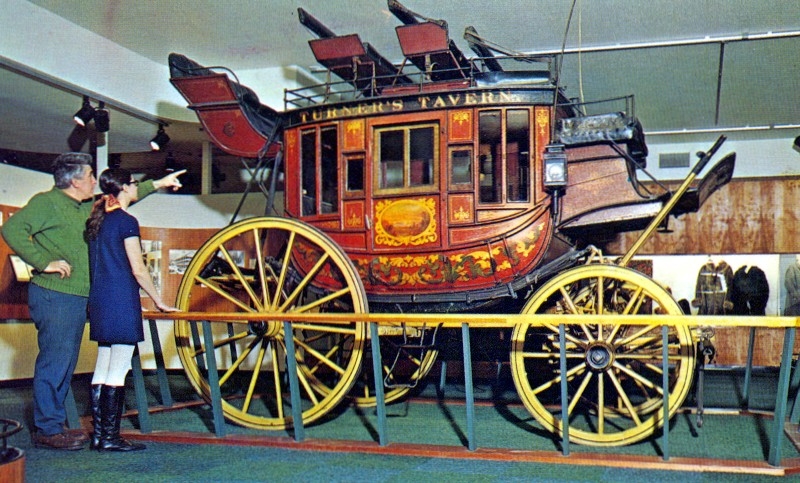 Click on Coach Updates III above to see this Concord Coach when it was in service. Scroll down.
I believe this coach was ordered by C. R. Merrill & Son from Abbot-Downing and was listed as Coach #342. It would have been shipped to Winterport, Maine.
No information available on this coach.
Special thanks to Dana and Janet Ball for this photograph.
September 16, 2005
Wells College Abbot-Downing Concord Coach prior to its being restored. To view this Concord Coach today - click on Abbot-Downing Concord Coach Updates III above and scroll down. Photo courtesy of Janet Ball.
The Wells Fargo Museum Store has listed new items, including Concord Coach salt & pepper shakers, bracelets, etc. Click on to see the new items.
Click on the Stagecoach above for one of my favorite sites. It will connect you to This Date in Wells Fargo History.
Claremont, New Hampshire Stagecoach in front of the Hotel Moody.
Claremont, New Hampshire Stagecoach
Sudbury, Massachusetts Stagecoach
Stagecoach leaving Sparta, Wisconsin, 1863.