Stafford Springs, Connecticut. Photo courtesy of Janet Ball.
Special thanks to Janet and Dana Ball for the following photos.
Hancock, New Hampshire
In the first issue of the Reno Herald, dated June 20, 1889 it was stated that the Reno Stage Company would commence Monday to run a stage from Oklahoma to Reno, Darlington and Kingfisher. The line was to be equipped with Concord Coaches.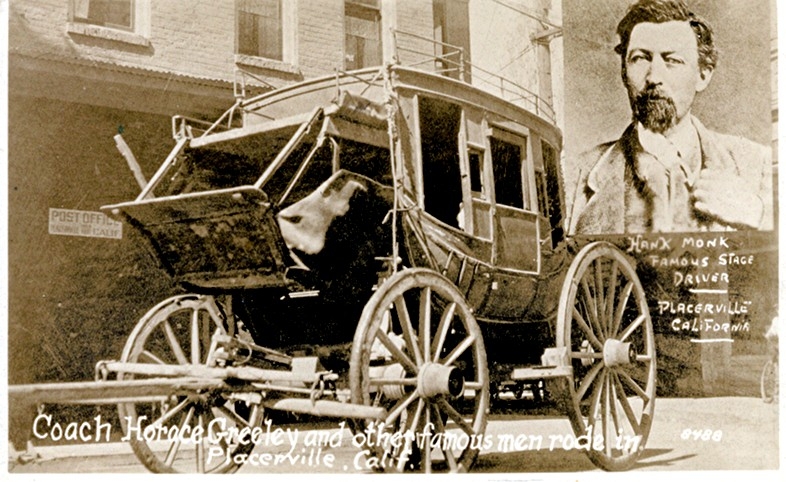 Placerville, CA
Farmington, Connecticut Stagecoach
June 9, 2005
Vermont Stagecoaches
June 3, 2005
The New Hampshire Historical Society has a new magnet of their Abbot-Downing Concord Coach. It's quite attractive and is available from them at their Gift Shop or by mail. At the gift shop the cost is $4.50.
May 30, 2005
Wells Fargo Stage
Stoddard, New Hampshire Stagecoach
This 1855 Downing & Son Concord Coach is now in the collection of the Kentucky Horse Park, Lexington, KY. It served between Keene and Spofford, NH.
May 15, 2005
May 8, 2005
Brimfield, MA Stagecoach
This old postcard shows the Crawford House Concord Coach located in the White Mountains of New Hampshire. It is now in the collection of The Long Island Museum.
Special thanks to Dana and Janet Ball for providing the postcard of the Crawford House Concord Coach.