January 13, 2009
Mountain Park Coach - North Woodstock, NH
January 1, 2009
I want to bring your attention to this great site I recently came across. The California State Parks Website is extremely informative, and even better, they have a link to coaches on display in the state of California. Mary A. Helmich's article is extremely informative and very well researched.
California State Parks Website - In the search line, put in concord coach. Enjoy!!
December 5, 2008

Wells Fargo History Museum in Phoenix decorates their Abbot-Downing Concord Coach for the Holiday Season
STOP IN AND VISIT. THE STAFF ARE EXTREMELY OUTGOING AND VERY KNOWLEDGEABLE REGARDING ALL ASPECTS OF WELLS FARGO HISTORY. DON'T FORGET THE GIFT SHOP!!
The main branch of Wells Fargo, adjoining the Museum, has one of the most beautiful Christmas trees that I have ever seen. Unfortunately, I can't provide you with a photo. Think of the photos of White House Christmas trees - and think of something that can top those. This one can!!!

December 4, 2008
Location Unknown - Photograph Found in New Hampshire
Bachrach Photographers Label on Reverse
November 27, 2008
I always love hearing information about the Barre (MA) Abbot-Downing Concord Coach. The Barre Massachusetts Historical Society has done wonders in such a short period of time (perhaps not to them!) in preserving this wonderful coach. Check out their recently updated website for further information.
November 19, 2008
Courtesy of and copyrighted by NH Historical Society
I want to share with you information regarding the current issue of Historical New Hampshire, a publication of the New Hampshire Historical Society. The lead article in this issue highlights "Coaching Parades in Bethlehem and North Conway, 1887-1896" You can purchase a copy of this issue from the NH Historical Society. Great story - wonderful photos.
November 11, 2008
I believe this photograph was taken at a Coach Parade in Central Park in New York City. Miss Elinor Wise, shown on top of the Coach, married the Duke de Richelieu in 1913.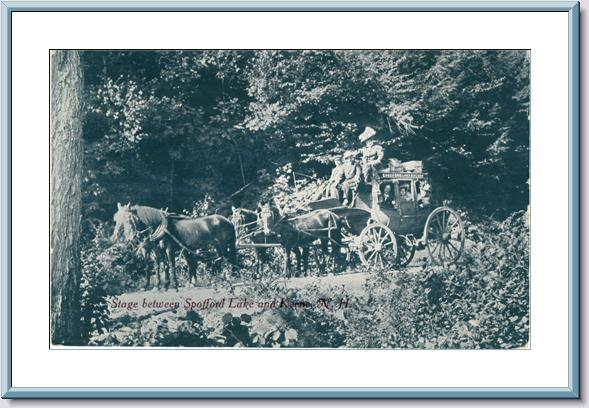 PHOTO COURTESY OF JANET BALL
Stage between Spofford Lake and Keene, New Hampshire. You can find another photo of this coach on page Updates III.

October 20, 2008
Hotel Coach - Location Unknown

October 11, 2008
Formerly on display at the Hood Museum, Hanover, New Hampshire
Off to storage - perhaps it will be put on display again in the near future!
Courtesy C. Peter James/Photo coprighted by Hood Museum
Abbot-Downing Concord Coach in the collection of the Hood Museum, Dartmouth College, Hanover, NH. Currently not on display.

October 1, 2008
Fryeburg (ME) Fair
September 28th - October 5, 2008
COURTESY OF AND COPYRIGHTED BY C. PETER JAMES
COURTESY OF AND COPYRIGHTED BY C. PETER JAMES
C. Peter James of the Concord Coach Society, shares photos with visitors to this site of his recent visit to the Fryeburg Fair. This Abbot-Downing has to be one of my favorites! It is one of the Abbot-Downing vehicles in the collection of the Marshall Family. Scroll down for further information on them.
Please return to my main page and check out information on becoming a member of the Concord Coach Society. Peter will be sharing a lot of photos he has taken lately of Abbot-Downing Concord Coaches on the Concord Coach Society site. You won't find them on mine - so you better go there!!

September 19, 2008
Sneak Preview!!
Photo courtesy of and copyrighted by Concord Coach Society
The Concord Coach Society was generous enough to provide me with this photo when they visited the Audi last Sunday. They will be adding photos to their site shortly. Information about the Society can be found on my Home page.

September 14, 2008
West Fairlee, Vermont
Although I can't read the entire name on the coach, I can read Thetford. I'd like to note that Henry Wells, one of the founders of Wells Fargo, was born in Thetford, VT.

September 6, 2008
New Hampshire Residents - Save the Date
COURTESY OF AND COPYRIGHTED BY CONCORD COACH SOCIETY
OPENING GALA - On September 14th at 6:00 p.m., the Abbot-Downing Concord Coach in the collection of the Concord Coach Society, will greet early arrivals that will be attending the 17th Gala Variety Show that begins at 7:00 p.m. at the Audi - Concord City Auditorium, Concord, N.H.
This is frosting on the cake. I love the Audi and what they have provided to the citizens of Concord, NH over the years. Check out the Concord Coach and stick around for a wonderful show! Click on for more information.

August 30, 2008
Hansen Wheel & Wagon Shop

You'll really enjoy this site. One of my favorites! Click on the coach above for further information on their preservation of Abbot-Downing Concord Coaches, newly built Coaches for Wells Fargo, and a very long list of quality work done for historic properties across America.

August 25, 2008
Update on the Location of this Abbot-Downing Concord Coach
This green (a popular color for hotel coaches) Abbot-Downing Concord Coach is in the Marshall Collection, Conway, New Hampshire.
Built in 1849 or 1850, it was used from Plymouth to North Woodstock and Lincoln for years. It was once displayed at the New Hampshire Highway Hotel. Richard Morton, who built and operated the hotel had the coach repainted and refurbished and then gave it to his daughter Jane.
This Concord Coach was displayed at the 1965 New York World's Fair and appeared in President Dwight Eisenhower's inaugural parade in Washington, DC.
The Concord Coach Society will be adding information to their site later on this year as to the vehicles in the Marshall Collection, which includes a number of Abbot-Downing vehicles. I'll keep you posted.
The Marshall Collection - Conway, New Hampshire

August 23, 2008
Once Again - Location Unknown
One clue is the Boston & Maine Railroad car in the background.

August 11, 2008
Magee Museum Abbot-Downing Concord Coach
The Abbot-Downing Concord Coach shown above was once located at the Magee Transportation Museum in Bloomsburg, Pa.
The museum's days were very brief. Hurricane Agnes hit the east coast of the United States in the summer of 1972 and flash floods swept across the property destroying a good portion of the museum.
Shortly thereafter, Harry Magee died. The collection of autos and carriages were cleaned and the Magee heirs sold much of the collection.
Unfortunately, at this time I have no idea where it might be found.

August 3, 2008
Crazy Horse Memorial
Abbot-Downing Concord Coach located at the Crazy Horse Memorial. Click on for information on this fantastic undertaking.

July 31, 2008
Abbot-Downing Concord Coach #131 originally ran between Grand Rapids and Kalamazoo, Michigan. It will now find a new home at the Portage Historical Society in Portage, Indiana.
For information on the Portage Historical Society, click here.

July 24, 2008
New London, NH Historical Society
This is a fantastic organization and one that everyone should be familiar with. I don't want you to click on just to see their Abbot-Downing vehicles on display, but to experience the enjoyment the citizens of New London, NH receive in maintaining our heritage. Read the entire website, then visit, and hopefully, you'll become a member.
Click on the coach above for the website.

MOUNT WASHINGTON AUTO ROAD
Friday, August 8, 2008 is the 147th Birthday of the Mt. Washington Auto Road. Vintage horse drawn and automotive stages will be on display. Check it out - they have one of the most beautiful Abbot-Downing Concord Coaches you'll ever see.
Click on the link below and scroll down to my posting of August 31, 2003 for information on Concord Coaches off to the summit.
Off to the Summit of Mt. Washington

July 22, 2008
Concord Group Insurance, Concord, New Hampshire
Photo courtesy of CatchestheLight/Flickr - much appreciated!
I was under the impression I added this link eons ago. Well, I should have. If you're visiting Concord, NH you should drop by the Concord Group Insurance Company to see their Downing Concord Coach. Add this one along with the one in the collection of the NH Historical Society, and the one at the Concord Monitor, and you can see three in a very short period of time. Concord is a very fortunate city in having that many.
Click on the link below for further information.
Schoolteachers, call ahead and book a tour if your class is in Concord for the day.
The unbelievable adventure of the Downing Concord Coach in the collection of the Concord Group Insurance Company.

SIX GUN CITY
And, how could I possibly forget my very special friends at Six Gun City in Jefferson, New Hampshire. Stop by and visit. You'll have a great time. The Brady family are great hosts!! Check out their Concord Coach (I was there at the NH State House when they dropped by to visit the Governor after purchasing it!)
Click on the gunslinger above for information.

July 20, 2008
Unfortunately, as with a lot of old photos, no identification of the whereabouts of this coach was written on the back. Perhaps information will become available at some future date.

Stages at the Glen House, White Mountains, NH
On July 17, 1893 a fire broke out in the upper part of the Glen House. Within an hour the large structure was in complete ruins.
The Glen was built in the early part of 1885 to take the place of the old house, which was burned on the night of October 1 of the previous year.

July 1, 2008
Senter House and Stagecoaches -Center Harbor, NH
To see an Abbot-Downing Concord Coach that was made for Curtis A. Coe, the owner of the Senter House, click on the site below for great information on the coach, now in the collection of the Sandwich, New Hampshire Historical Society. Info on the Society can be found on my Home Page.
Abbot-Downing Concord Coach in the collection of the Sandwich, NH Historical Society
June 26, 2008
This Abbot-Downing Concord Coach is now on display in the Wells Fargo Museum in Portland, Oregon. It has gone through a couple of major restorations.
As Princess Elizabeth (1951) - the future Queen Elizabeth II took a stagecoach ride in this coach. For further information, click on Guided By History on my Home page and search Queen Elizabeth on the Wells Fargo site. You can also Google Wells Fargo Museums for a current photo of the Abbot-Downing Concord Coach.
This is an example of an Abbot-Downing Concord Coach that has gone through a number of restorations instead of preservation. Thankfully, Wells Fargo has brought it back to what it possibly looked like whcn it came out of the factory.
June 20, 2008
BOTTLED WATER, ANYONE?
You read the name on the coach - good for you!!

150th Anniversary of Hopkinton, New Hampshire
Mr. Fitts Corser of Henniker, NH driving and Mr. Gilmore beside him. Taken during the 150th Anniversary of Hopkinton, NH, August 29th and 30th, 1915.

June 12, 2008
Heerlen, The Netherlands
This Abbot-Downing Concord Coach found a new home in the Netherlands. Some of you may have read about this coach in the Winter 1994 issue of The Carriage Journal. In this issue Ken Wheeling reports that the coach, stamped #13 on the axles, was owned by Chris van Tilburg who put it on display in La Diligence, a restaurant and carriage museum in Heerlen.
Unfortunately, Mr. van Tilburg passed away, and the last I knew, the collection was to be sold at auction. Should I find any further information, I will share it with you.
This coach came from the Black Hills and was purchased by a New Hampshire resident. It remained in storage until being sold to Mr. van Tilburg.
Another interesting note about the coach is that the name of the Abbot-Downing blacksmith - Chesley - is found on the hound band. James G. Chesley, along with other veteran Abbot-Downing employees whose average term of service to the company was 47 years, was photographed in the Deadwood Stage when Buffalo Bill brought his Wild West to Concord, NH in 1895. You'll find a photo elsewhere on this site.

June 9, 2008
Shipment of 30 Coaches to Wells Fargo
COURTESY NEW HAMPSHIRE HISTORICAL SOCIETY
You're all familiar with this oil painting in the collection of the New Hampshire Historical Society. I've told you that the weather wasn't as gorgeous as the painting portrays.
To my surprise, a 19" x 12 1/2" photograph went up for bid on ebay this past week of the shipment on April 15, 1868. I have a very poor copy (including water stains) taken from either a newspaper or magazine article in 1935. If you find a similar original photograph, hold on to it. The final bid for the photograph was $3,608.84. Yes, that was the price. No typo!!
The photograph in the above article is the same - but the original photograph has different graphics.
June 6, 2008
This is one of my favorite photographs. This is a Kilburn Stereoview (1887) entitled "Homeward Bound From Vacation." This is the same Concord Coach you will find on my site in which President Grant is shown atop the coach.
Scroll down on this page for my posting of June 15, 2007.
May 25, 2008
PHOTO COURTESY AND COPYRIGHTED BY CHUCK BOURBEAU
New Hampshire Residents
NOTE: The restored structure shown above, formerly located on Sugar Hill Road in Hopkinton, NH was completed for the 77th annual Hopkinton State Fair. Gordon "Skip" Rich, a Weare barn restorer and his crew, along with their quality craftsmanship, brought this century old barn back to life at its current site. The "Concord Coach Society" sign over the main entrance was a gift of Edward Rowse.
There were truly a number of individuals that brought about the completion of this structure, but that will be up to the webmaster at the Concord Coach Society to fill you in. I'm too busy as it is.
Now is the time to become a member, just before the Fair. You'll have a wonderful time volunteering during this event. Click on Concord Coach Society below for information.

Old Sturbridge Village has purchased an excellent reproduction of an 1838 Abbot-Downing Concord Coach. Click on below for a great article and wonderful photos.
**Once again a reporter spells Abbot wrong!!!!! Half of the references I've consulted have done the same thing. The National Postal Museum, Carriage Museum of America and Concord Group Insurance in Concord, NH, among others, are also guilty. To do research, use both spellings - you'll get different results.

May 16, 2008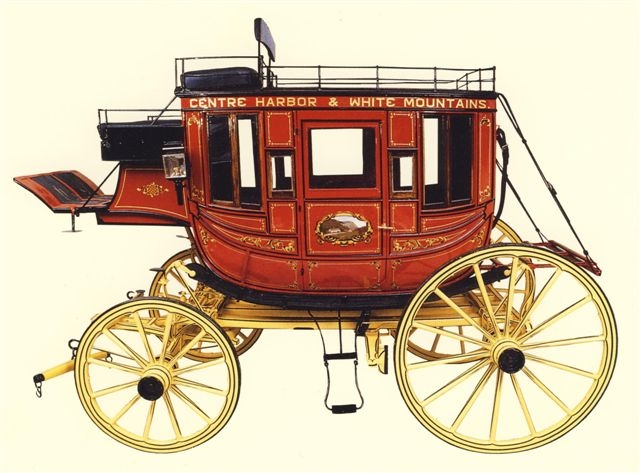 PHOTO COURTESY OF AND COPYRIGHTED BY THE CONCORD MONITOR, CONCORD, NH
To mark the dedication of its new building, the Concord Monitor, Concord, New Hampshire, undertook the restoration of Abbot-Downing Concord Coach #113. The project was undertaken by the Monitor in order to return the coach to the people of Concord after an absence of 124 years.
The coach was discovered in a barn in western Massachusetts in 1987 by Ronald D. Daniels, who oversaw its restoration for the Monitor.
The nine-passenger hotel coach, finished in 1866, was built to specifications of the Sayward-Durgin Stage Company of Centre Harbor, New Hampshire.
The dedication of the new Concord Monitor building took place on January 21, 1990. When in Concord, stop by and have a look. There is another photo of the coach on my "Home Page".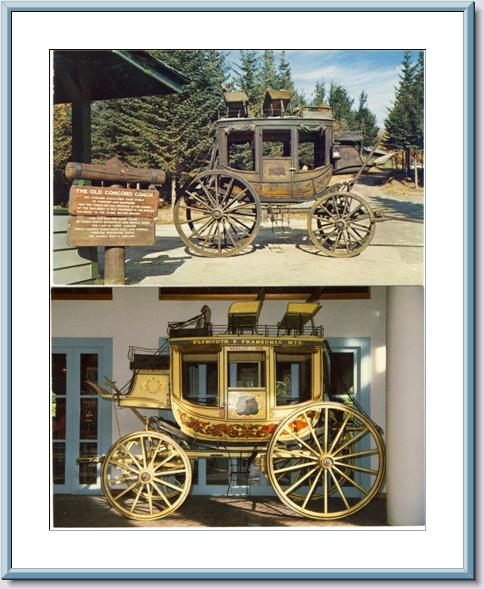 Before and after photos of the Abbot-Downing Concord Coach (#431) located at the Flume in New Hampshire. Great photos and story in the August 1964 issue of "New Hampshire Profiles," if you can find a copy.
By 1964 the State of New Hampshire, owners of both the Flume and #431, had a pretty shabby stage coach on its hands. And then came along Mrs. Rachel Adams, chairman of the Town of Lincoln's Bicentennial Committee (1764-1964). If the State would let Lincoln use the coach during the festivities that summer, the committee would underwrite the cost of a handsome restoration. The State was pleased to agree and you can see the results of the restoration in the photo above.

May 15, 2008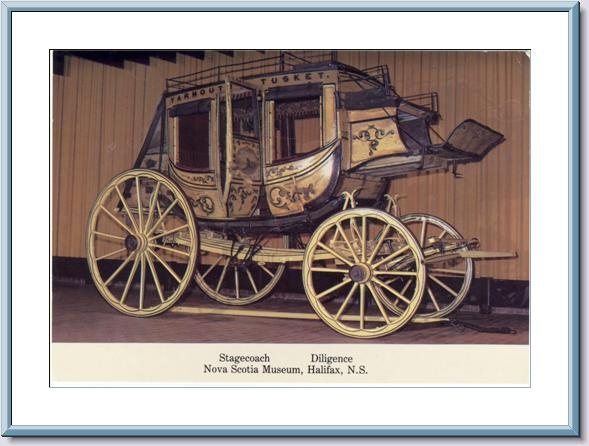 This Abbot-Downing Concord Coach is in the collection of the Yarmouth County Museum. To see another photo of it at the museum, click on the link below, scroll down, and click on the photo of the coach for an enlargement.
Downing Concord Coach in the collection of the Museum of the American West. (Formerly, the Autry Museum of Western Heritage.)
Los Angeles Natural History Museum
May 3, 2008
NOTE: The Kearsarge on this side of the coach
NOTE: East Branch House on this side
Here's a neat little article from the Hartford Courant dated April 23, 1924.
Baltimore, Md. - Henry Ford has added to his collection of relics by the purchase of an ancient stagecoach from an inn-keeper on Belair Road. The vehicle, which travelled the roads of the White Mountains for many years, came into the possession of the inn-keeper about six years ago. It was left at the place by a New Hampshire man, who was on his way to California, towing the coach behind his automobile.
In the vicinity of the inn, the coach broke down and F. J. Goettner, the inn-keeper bought it. Mr. Ford saw the stagecoach when he stopped at the inn on an automobile trip last September and began negotiations for it. The sale was recently completed and the vehicle will be shipped to Dearborn, Michigan, today.
I want to share a few photos of this Abbot-Downing Concord Coach. Click on the link below for photos of the coach at the Henry Ford Museum and a few surprise photos!!
PLEASE NOTE: All the photos on the site are originals and copyrighted by Jim Steinhart. PERMISSION REQUIRED FOR USE. Please read LICENSE PHOTOS for use.
Check out Jim Steinhart's fantastic photos on his website.

May 1, 2008
SPECIAL THANKS TO JANET BALL
Concord Coach - Antrim, New Hampshire
April 29, 2008
April 24, 2008
If you're extremely lucky (chances are it won't happen,) you'll come across one of these advertising envelopes ca. 1850's.
Good luck!!
Woodstock, Maine (Bryant's Pond) The "Tuttle" Stage at the Railroad Station.
Bridgeton Landing, Maine Stagecoach
Harrison, Maine ca. 1890 - Philander Tolman House
March 18, 2008
This stagecoach is decorated for a carriage parade in W. Boylston, Massachusetts in 1908.
March 13, 2008
Special thanks to Janet Ball for sharing this stereoview from her extensive collection of Abbot- Downing Concord Coach photos. You'll find additional photos of this Abbot-Downing Concord Coach elsewhere on this site.
This is one of two twelve-passenger coaches ordered by the Glen Falls and Lake George Stage Company in 1880. They also ordered a nine-passenger coach.
March 5, 2008
There are other photos of this Downing Concord Coach on my site, including my Home Page. For further information on the Center Sandwich, NH coach, click on the photo above.
February 25, 2008
Cutter's Hotel, Jaffrey, NH, was formerly known as the Grand Monadnock House, and burned to the ground in 1954.
December 28, 2007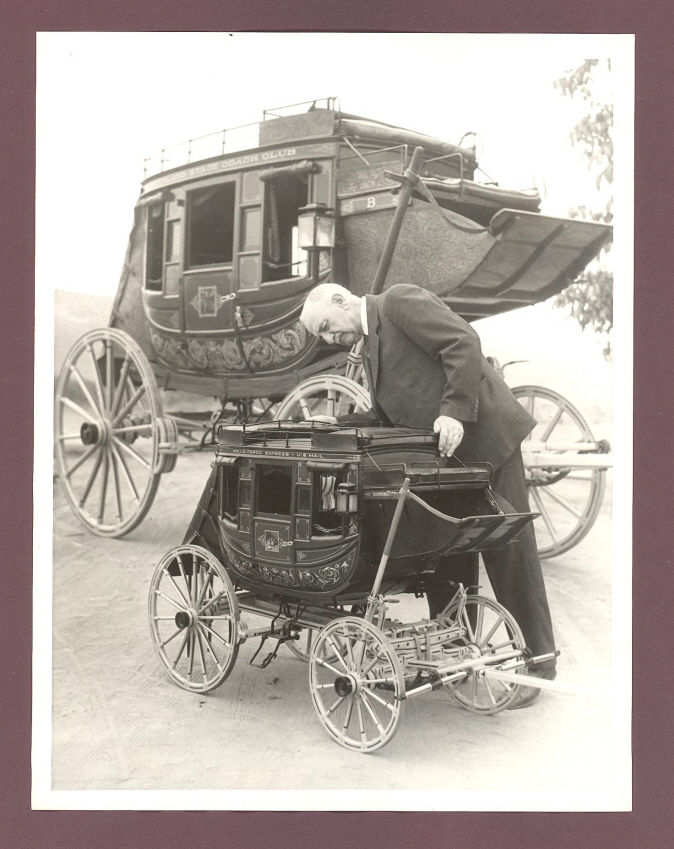 Capt. William Banning with his Abbot-Downing Concord Coach, together with the 1/3 scale model. The model was completed in 1936.
In 1944, Frank, a stable hand of Mr. Banning's got drunk one night in the barn and set the place on fire when he passed out and dropped his lighted cigarette. The barn, along with the Abbot-Downing Concord Coach, mud wagons, etc. were destroyed. Fourteen horses died in their stalls.
The miniature is in the collection of the Los Angeles County Museum.

December 24, 2007
Arcadia Publishing continues to provide us with fantastic publications of Images of America. One of their latest is Images of America - Wells Fargo by Dr. Robert J. Chandler. This book is available from all major booksellers, or you can contact the publishers directly. Their website is www.arcadiapublishing.com. Great chapter on stagecoaching. The book is also available at all Wells Fargo History Museums.

December 13, 2007
In the Premiere Issue/Winter 2007/2008 of "Around Concord" (N.H.), there is a feature article, with photos, on the Abbot-Downing Concord Coach.
Of note, is a photograph of a letter from Buffalo Bill to Mr. Downing. Whereas I am familiar with the other photos in the article, I had not seen this before.
When last I checked, their web address was not up and running, but their address is as follows: Around Concord, 8 Old Coach Road, Bow, N.H. 03304. Price: $4.95 + shipping and handling.

October 30, 2007
In this issue you'll find an article on John Burgum, chief ornamental painter for the Abbot-Downing Company. It's extremely informative and there are great color photographs.
For ordering information, click on the picture above. Then, click on Books/Granite State History.
October 28, 2007
There are some questions regarding this photograph. The handmade sign attached to the rail above the door reads "Annisquam." Was this coach in a parade and wanted to identify the town it was representing? I have no information regarding O. E. Griffin, the name above the door.
Stagecoaches began service to and from Annisquam, MA in 1849 and ceased operation in 1893 when trolleys took over.
PHOTO COURTESY OF JANET BALL
THIS PHOTO WAS TAKEN IN ORANGE COUNTY, VERMONT
October 17, 2007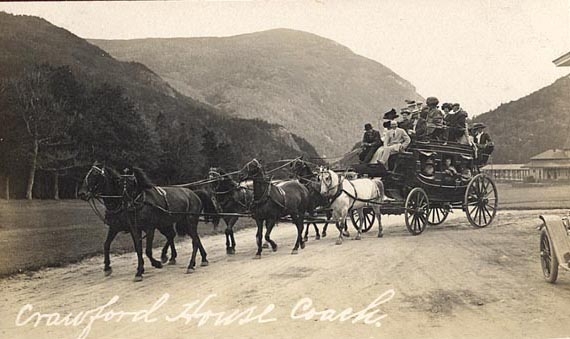 This Abbot-Downing Concord Coach belonged to the Crawford House, a grand hotel in the White Mountains of New Hampshire. It is now in the collection of the Long Island Museum (formerly The Museums at Stony Brook).
September 1, 2007
This is a fantastic photo taken in Chelsea, VT of the South Royalton, Tunbridge and Chelsea Stagecoach. C. E. Peters, proprietor.
August 26, 2007
The western style stagecoach shown above, attributed to Abbot-Downing, was sold at auction by Greg Martin Auctions in June of this year for the sum of $109,250. The stagecoach had been in storage for the last 20 years and had been owned at one time by the Parker Lyon Pony Express Museum in Arcadia, CA.
PHOTO COURTESY OF ARCADIA PUBLIC LIBRARY
PARKER LYON AND THE STAGECOACH SHOWN AT THE PONY EXPRESS MUSEUM
PHOTO COURTESY OF JANET BALL
The Kasoag Lakes Park is located in Oswego County, New York

Recently, I was checking out the NH Historical Society Gift Shop online and noticed they have added an additional color for their Concord Coach ties. These are high quality ties and I have both the black and the blue one. (The blue one being my favorite.) The new one (shown below) is a pale gray. Click on the picture for information.
August 4, 2007
THIS PHOTO APPEARS TO HAVE BEEN TAKEN AT A BOY SCOUT CAMP. UNFORTUNATELY THE LOCATION IS UNKNOWN.
SPECIAL THANKS TO JANET BALL
July 23, 2007
Farmington, Connecticut Stagecoach, 1897
PHOTO COURTESY OF AND COPYRIGHTED BY CTHISTORYONLINE.COM
July 17, 2007
JULY 10, 2007
ACCORDING TO INFORMATION ON THE REVERSE OF THIS REAL PHOTO POSTCARD THERE IS THE POSSIBILITY THIS COACH WAS PHOTOGRAPHED IN CONTOOCOOK, NH OR THE IMMEDIATE VICINITY.
June 23, 2007
GREAT ARTICLE ON THE SANDWICH, NEW HAMPSHIRE CONCORD COACH.
If you happen to be going through Sky Harbor International Airport in Phoenix, look for the Wells Fargo Concord Coach mural. Click on for info on the artist responsible for this great work.
Posted June 15, 2007
This gorgeous building exists today and is known as the Thayer Inn.
President Ulysses S. Grant is shown atop the stagecoach in this photo taken at the Thayer Hotel, Littleton, NH in 1869.
E. K. Cox, a White Mountain stage driver took him on a wild ride through the White Mountains, and in appreciation he presented Mr. Cox with a whip which is now in the collection of the New Hampshire Historical Society.
There is a great article in the February, 1903 issue of "The Granite Monthly" entitled "General Grant's Love of Horses and his Stage-Coach Ride in the White Mountains."
Mr. Thayer, the hotel owner appears to the left, behind the horses.
WARWICK, MASSACHUSETTS 1889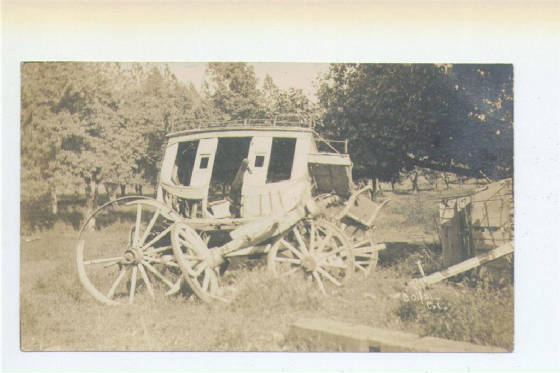 COLFAX, CALIFORNIA
IF THEY ONLY KNEW THEN WHAT WE KNOW NOW, THESE COACHES WOULD NOT HAVE BEEN LEFT OUT IN A FIELD TO ROT!!